If you are looking for a mortgage, it can be hard to determine where to start. While you can use a comparison website working with a mortgage broker may be the better option. There are many advantages to mortgage brokers that place them ahead of comparison websites and looking for a mortgage on your own.
Saving Money
Your mortgage is likely to be the largest debt you have in your lifetime and you want to save some money on it. Mortgage brokers will be able to look for the best deals on the market based on your financial situation. While it is possible to use trackers and comparison websites to find the lowest rates, mortgage brokers look further for money saving.
They will consider the fees and conditions of the mortgage. After all, you will not save money if you have a low rate but very high fees. The overall term of the mortgage is also important if you want to be able to save on the repayments.
Saving Time
Looking for a mortgage can be time-consuming and most people do not have the time to go into the detail necessary to get the best mortgage. Looking at mortgages and understanding the products is all a mortgage broker does. This means they already have the understanding of the market necessary to find and get the best deals.
Working with a mortgage broker can save you a lot of time and not only when searching for a mortgage product. They also save you time when it comes to applying for the mortgages. They know how all the lenders work and whether or not you will be eligible for certain mortgages. This saves you time applying for a mortgage that you are not qualified for.
The Range Of Mortgages
There are many mortgage lenders who are not on comparison websites. These lenders might be the best ones for you, but you will have a hard time finding them if you do not already know about them. Mortgage brokers know about them and they have access to a wider range of mortgage products than you will have.
Of course, this depends on the broker you are working with. There are some brokers who are tied to specific lenders and will not provide you with products from every possible lender.
Getting Financial Advice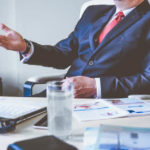 Mortgage brokers not only find the best mortgage for you, but they are also qualified to give you financial advice. If they feel you are not in the best financial situation for a mortgage, they can help you get there. They will also be able to provide advice on how to handle the mortgage once you have it.
Mortgage brokers offer a lot and many people are not aware of this. While you can look for a mortgage on your own, you will not have the same access as brokers or their understanding of the products. Mortgage brokers can also save you time and money while providing you with any advice you need.